We pride ourselves on offering excellent customer service at Travelling Bazaar and our team members are such an important part of our business. You will always find a friendly face waiting to welcome you at our bricks and mortar stores or on the end of an email.
Nicky -Co Founder
Here are Travelling Bazaar, Nicky is the shoe, boot and coat obsessive as well as the spreadsheet guru!
Nicky's style is pared back simplicity with a love for muted colours and statement earrings used to spice up her outfits. She can normally be found rocking a cool pair of trousers, matched with a simple fitted tee, a fabulous knit and her dogs Lily and Archie by her side. Whilst she now favours a strong pair of trainers or summer sliders, she was partial to a spot of Prada purchasing back in her Selfridges day and loves shoes! Don't be fooled though, Nicky loves to dress up and when it comes to the evening she does glamour like no other.
Besides fashion Nicky is passionate about nutrition, with a healthy dose of balanced good eating and wine is what makes her tick. She is a clinical nutritionist by trade so knows plenty on this topic. Besides her gorgeous girls, her passions are her dogs (who are frequent visitors to our stores), Scandi interiors with a love of soft colour palettes with light wood and interesting textures.
When she's not busy in the shop, you can find her either on the tennis court or yoga mat (practicing herself) or at the side of a hockey pitch (watching her children) or out roaming with the dogs. She enjoys an outdoor lifestyle and has a passion for travelling having recently explored India, Greece, Asia and Africa.
Karen - Co founder
Karen is our main buyer of jewellery, shirts, perfume and coats as well as being the face you often see braving our instagram account. Karen loves nothing more than to be dressed in a big bold skirt paired with a shirt and pearl jewellery and she rocks a red lipstick no matter the weather.
Speaking of shirts, Karen is obsessed with them. She often jokes that if she could just sell white and blue shirts (ideally Victoriana or gentlewomen inspired) she would be beyond happy, but thankfully for us she sells more!
Often opting for trainers, tailored wool/blanket coats and dainty gold and pearl jewellery by Gem and Tonic, she styles her outfits perfectly. If you need any gentlewoman styling, she is your go to member of our team.
Karen is a lover of colour, in both interiors and fashion. She favours strong lines, mid-century interiors and French 1930's pieces to decorate her home with. She is an avid collector of 1950's glass and has a tendency to be a hoarder, thank goodness she has good taste!
Karen's passions are wide and varied, she loves her dog Basil who often pops up in our Instagram feed, horses, collecting vintage Objet D'Art, Cote de Basques and all things French when it comes to fashion and jewellery. When she isn't dishing out fashion advice in the shop you will find her either walking the dog, on the side of a pitch of some kind, at the stables or out running (steady wins the race).
As with Nicky, Karen also enjoys travelling with recent adventures taking her to Africa, France and Japan.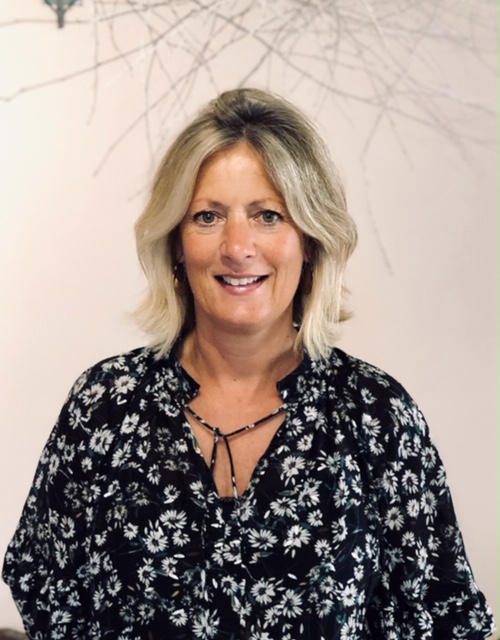 is based in our Farnham shop and is is one of our longest serving team members. She is incredibly stylish and super lovely too, it's not unheard of for people to follow her down the street to ask where she bought her dress from. As an ex-interior designer Julie-Anne has a keen eye for merchandising and always curates our window displays in Farnham beautifully. Her signature style is a printed midi dress and her favourite brand is Munthe.
is also one our longest serving team members and supports us in the Farnham store on a Saturday and during the holidays. She is amazing with customers – always helpful and friendly, giving the best advice. Kate's signature look is statement sleeve blouse with maxi skirt or on-trend jeans but is willing to experiment with animal print dresses and vibrant prints.
is based at our newest shop at Newlyns Farm in Hook. She works on a Monday, Wednesday and Thursday. She has an amazing ability at merchandising our beautiful cosy shop and makes it look amazing despite its petite size. Lorna's signature look is a statement blouse, jeans and trainers but she also looks fab in neon pink and isn't afraid to wear it! Lorna also works on our e-commerce site and marketing and has a great eye for detail.
works in the afternoons at our Newlyns shop on a Monday and Tuesday. She has the best handwriting and organisational skills out of all of us and is passionate about fashion and putting together an on-trend outfit. A total Labrador lover, Katie is the best advert for sporting one of our dog walking coats. When she is not walking the dogs, her signature look is a maxi skirt or dress with statement lip and biker jacket.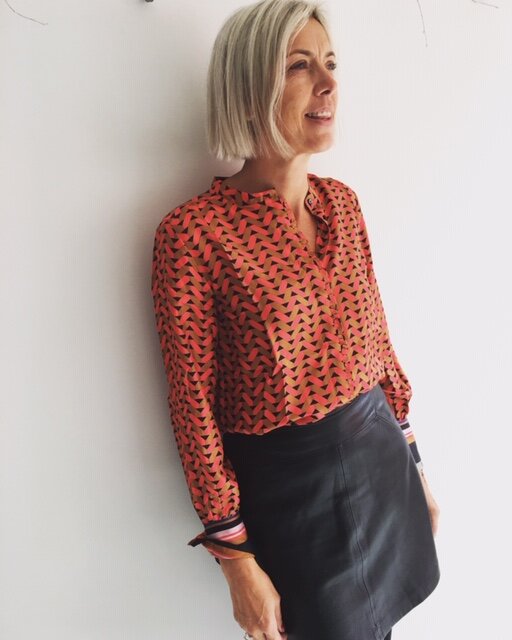 works in our Farnham shop and is the host of our evening shopping parties which take place in our Farnham store. She has a unique style and never takes it or herself too seriously. Alex can pull off posh punk with vibrant knits, faux fur and skinny jeans but equally can glide elegantly into a room in a full length maxi – a real head turner!
is our lovely Saturday lady working at the Newlyns shop. She is helping us out while she is studying at College. Ruby's signature look can swing between a midi dress and then an American Vintage sweatshirt or oversized sweater and on trend jeans. Ruby like everyone who works at Travelling Bazaar is mad about dogs especially her boarder terrier – Rollo.
mostly runs the Travelling Bazaar Charity events side of the business in Hampshire and parts of London but she can be found at the Newlyns shop on a Wednesday too. Heather also works at the Women's Charity Smartworks – so a very busy and dynamic person. An enviable clothes horse, Heather's signature look is sports luxe for daytime but at night you will see her sporting beautifully Danish evening wear.